Pope Francis Preparatory School tapes Good Friday Pro-Life Stations of the Cross
March 27, 2021
REGIONAL
Story and photos by Carolee McGrath
iobserve.org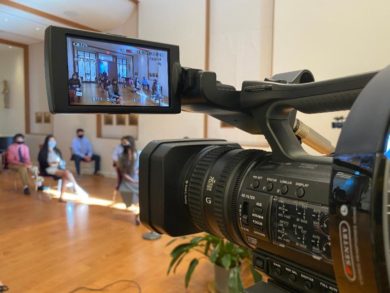 SPRINGFIELD – Students from Pope Francis Preparatory School in Springfield have been in production the last few weeks, recording Pro-Life Stations of the Cross and Rosary to be viewed on their YouTube channel (bit.ly/3qYuWRD) on Good Friday, April 2, at 10 a.m.
Praying the Pro-Life Stations of the Cross outside of the abortion clinic in downtown Springfield has become a tradition in the Diocese of Springfield. While Springfield Bishop William D. Byrne will still lead people in prayer on Wason Avenue on Good Friday at 10:30 a.m., the virtual prayer service will be available for those who are unable to join due to the pandemic.
"We're putting it on video, so that it can be put on our YouTube channel, so people can pray together as families on Good Friday. It's not to replace the Stations of the Cross down at the clinic, but because of our current situation, our students were looking for a way to get others involved and allow them to be able to pray in a safe environment or a comfortable environment," said John Anziano, director of campus ministry at Pope Francis Preparatory School.
Most of the students who participated are in Anziano's Christian Leadership class at Pope Francis. He also reached out to other youth in diocese to help.
"I think it's about fifteen different parishes (that) will have at least one or two youth from their parish involved in the program," said Anziano.
His mother, Marilyn Stearns, started the pro-life prayer vigil on Good Friday decades ago. In past years, Anziano has brought students from Pope Francis to lead the Stations of the Cross. In addition, Pope Francis typically takes part in the Longmeadow Life Chain held each October, and the Springfield Mass and March for Life held in January. Due to the pandemic, the school has not been able to participate in the same way.
"It's nice to be able to help in any way you can, because a lot of people want to get involved. It means a lot to them and they wouldn't be able to be a part of it any other way," said Tony Yacovone, a senior at Pope Francis. He said doing his own research opened his eyes to the truth about the pro-life movement.
"I've been told, because I have always gone to a Catholic school, that abortion is wrong, but I never really thought about it," he said. "And I just looked at the statistics and it's just insane that hundreds of thousands of innocent lives are just being taken like it's nothing."
Yacovone, a member of Holy Cross Parish in Springfield, added that the science behind fetal development also convinced him.
"You always hear the argument that it's just a bunch of cells, but you can see a baby's face, you can see a human," he said of ultrasound images.
Pope Francis senior Max Dewey is editing the project alongside Darryl Geoffrey, director of technology at Pope Francis.
"So, basically, we're going to have to take a look at each of the different clips based on who is doing what. If someone is looking down, take the sound from one and piece it to the video from the other," said Dewey, a member of St. Francis of Assisi Parish in Belchertown. "Basically cut and paste, mix and match. We will also throw in a few photos of different things around the world or different objects to enhance the video."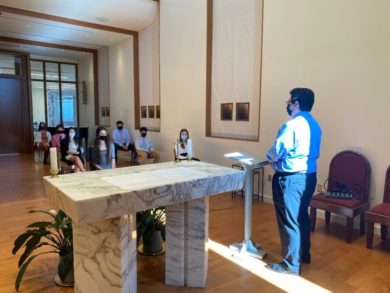 In addition to reciting the prayers, students recorded "Jesus Remember Me," which will be edited in between each station.
"They always make it seem like it's the easiest pathway," said senior Elizabeth Gonet, of the way the abortion argument is often positioned in the popular culture.
"A lot of people are blind to the truth and I think, as a young Catholic woman, I think it's important for me to share my voice," said Gonet, who is a member of St. Thomas the Apostle Parish in West Springfield.
Close to 40 youths took part in the production.
"I saw this picture on Instagram, actually it was Jesus holding a baby and it was like they took away my plans for you," said Ava Aguiar, a member of the youth group from St. Cecilia Parish in Wilbraham. "No matter what happens — because you know there are hard times — people will talk about what if it was this instance, or an instance of that, but overall, Jesus has a plan for everything and a child is a blessing. They're going to be special in this world."
The Pro Life Stations of the Cross and Rosary can be found  at  bit.ly/3qYuWRD.

A video version of this story will be featured on the March 27 edition of "Real to Reel" which airs Saturday evenings at 7 p.m. on WWLP-22 NEWS.