February 20, 2021
By Carolee McGrath
iObserve.org
SPRINGFIELD – With a few games left to play, the Pope Francis girls hockey team is making their mark in Division 1 high school, Central-West league. The team is a co-op, made up of eight students from Pope Francis Preparatory School in Springfield, and eight players from schools in surrounding communities. "Our program is a first year program. We're on the rise. We have eight girls that play for our school from Pope Francis and we have the other eight girls are from co-op schools all throughout western Mass., schools like Frontier Regional, Amherst Regional, Northampton schools and as far west as Pittsfield," said head coach Chris Connors.
The Cardinals' record is 3-4-1, with wins over Longmeadow High School, also a co-op, and Leominster High School.
"It's primarily us and Longmeadow out here in western Massachusetts, so it's a great opportunity for girls' hockey out in this area. In Boston, there's a girls' team in every community, so this is big," said Connors. Morgan Peritz, a junior at Pope Francis, is the team captain. She transferred to Pope Francis in August. "It was kind of a tough decision for me to transfer to Pope Francis because I was so close to everyone in my hometown, but I knew in order to play hockey on a girls' team I had to go there and I wanted to better my academics and I think this school helps me out with that," Peritz said.
The team also was launched in the midst of the pandemic, but has managed to make necessary adjustments and take all necessary precautions.
 "It's been challenging getting on the ice at all, starting the program up in November," said Sara Wright, a sophomore from Hopkins Academy in Hadley. She added that the coaches have been very helpful and she's grateful they're able to play. "It's very fun to have a group of people that I know well and also get to know better over the course of however many months. It's very nice atmosphere that the coaches have brought and girls have brought as well," said Wright.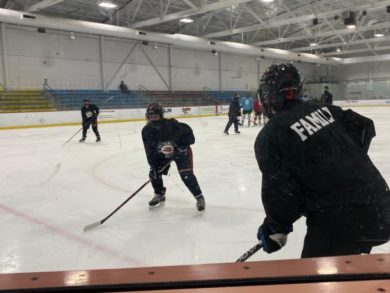 Since Pope Francis is playing in a competitive division, both Coach Connors and the players said it will help their chances of playing after high school. "I definitely get a lot more looks playing on this team than I would ever on a boys' team. My coach, he helps me a lot too," said Peritz who hopes to play in college. "There's great visibility. We're playing in a top notch league against proven teams like Shrewsbury High School, Algonquin. Even this year aside from COVID, we were slated to play some of the D-1 Catholic schools in the Boston area: Malden Catholic, and St. Mary's Girls. So the exposure these girls are getting is unbelievable," said Connors.
The team motto, written on the back of their jerseys, is "Family." Coach Connors said prayer has always been part of the game for him. "All the years I coached, even at Saugus High School and St. Mary's, I feel it's a good time before the game to reflect and basically everybody get together and say a prayer," he said. "We also felt it was very important to have a moment of silence for the young gentleman from Bishop Feehan that had a tragic accident this week." The Pope Francis community, led by the boys hockey program, raised close to $14,000 to support A-J Quetta, who suffered a spinal cord injury in a tragic accident in a game against Pope Francis in West Springfield in January.
"'Family', that's our slogan. That's our motto for our team. We're trying to build a culture here at Pope Francis — a team oriented, family-first culture. All the girls have embraced it; all the girls have bought in," Connors said. Pope Francis faces off against Leominster Saturday, Feb. 20 at 3 p.m. at the Wallace Civic Center in Fitchburg.